Seamless Learning Experience
Knowledge Beyond Boundaries
Jhunjhunu Academy is the flagship school of JIVEM Education. Spread across sprawling 35 acres campus, Jhunjhunu Academy is a home for 2500 students.
Class Nursery to II
(Ages 3 to 8 Years)
Jolly Angels Kids School - Pre Primary Division: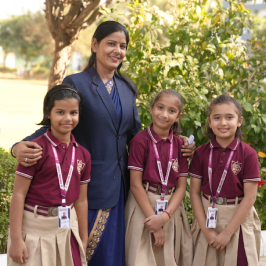 Preparatory Stage
Class III to V
(Ages 8 to 11 Years)
CBSE - NCERT Curriculum.
Sports Curriculum
Middle Stage
Class VI to VIII
(Ages 11 to 14 Years)
CBSE - NCERT Curriculum.
Sports Curriculum
Secondary Stage
Class IX to XII
(Ages 14 to 18 Years)
CBSE - NCERT Curriculum, NDA - UPSC and SSB, IIT-JEE, NEET - UG, CUET, CLAT, Overseas Education, Sports Curriculum
Why Jhunjhunu Academy
This School with its associates is managed by JIVEM EDUCATION (P) LTD. An ISO 9001:2008 certified CBSE School in Rajasthan, India, It is not only one of the best schools in Rajasthan but our noble motive of imparting affordable.
Trust of students & parents from 18 states & 3 countries.
One Campus
Multiple opportunities
Jhunjhunu Academy is the top school of Jhunjhunu district. Here teachers are incredibly smart
people. The general growth of the children is strongly encouraged at this institution. The school's
playground is sizable. The school has excellent discipline. All children are treated equally. Good
approach to teaching & learning.
When they point out mistakes, teachers are nice and courteous. Every month, the school plans
amusement events. The school offers many possibilities for students to better their overall growth.
Discipline, respect, and responsibility are being taught by educators.
The environment at the school is lovely.
I love this school very much.
I would like to thank and congratulate the founder members as well as the entire faculty of Jhunjhnu
Academy for establishing such a holistic place for the all round development of children. Children are
nurtured here with great care and positive learning environment. My child finds joy in learning
because of the interesting teaching learning method followed by the efficient teachers. I wish best of
luck for their future endeavors.
It is a very friendly school and has a warm feel. I think there is a wide range of activities for the
children, they also get the chance to experience things outside of the school.
Excellent care, guidance and support for children, parents & staff. An interesting, engaging broad &
balanced curriculum children learn in a safe and happy environment.

I'm very happy to see the changes in my children after sending them to Jhunjhunu Academy. They
have shown improved performance in terms of academics, sports as well as extra curricular
activities. The teachers and staff are very helpful and friendly. I admire the hard work and efforts put
in by the teachers and bringing out the creative talents which are within these kids. Sending them to
this school and that too in boarding was a good decision.

My daughter Saivi is currently studying in class 8th, In the small and secure environment that the
school provided, she transitioned from a shy and introverted girl to a confident and happy young
adult. Most importantly my child was extremely happy during her time here! I can confidently say
that Jhunjhunu Academy wisdom city is the best school in Jhunjhunu.
School You Would Want To Be In
Creating World Citizens Since 1983
Jhunjhunu Academy, the flagship institution of JIVEM Education, which was established in 1983, expanded organically from one to five campuses in Jhunjhunu.
Sprawling over an area of 35 acres of wisdom city, the campus is idyllic and capacious for the holistic growth of a child. Its serene location and secure environment makes it an ideal place for the children.